PA 50
Manufacturer:

---
Description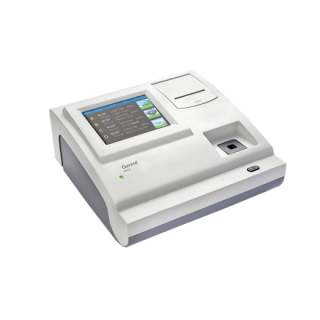 PA50 is a semi-auto analyzer for quantitative determination of specific proteins in blood and urine samples, including HbA1c, HS-CRP, CRP, ASO, CYS-C, RF, mALB, D-Dimer, IgM, IgG, IgA, C3, C4, etc.  It's an ideal instrument designed for medium or small labs or as a backup analyzer in larger labs.
---
Technical Specifications

Features
5.6 color touch screen
Calibration by magnetic card
1 or 4 independent channels
Disposable cuvette, no carry-over
Supports LIS and barcode Scanner
Less and easy maintenance
Principle
Parameters
CRP, SAA, HS-CRP, CCP, RF, ASO, HbA1c, CYS-C, mALB, D-Dimer,
IgG, IgA, IgM, C3, C4, etc.
Throughput
Calibration
Sample
Whole blood, serum, urine, plasma
Light source
Test channels
1 or 4 independent channels
Reactions time
---