GE 500
Manufacturer:

---
Description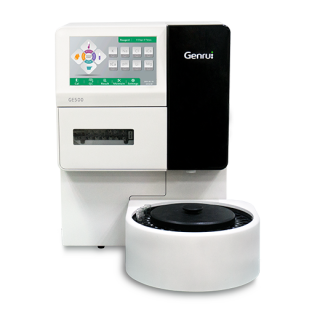 GES00 is a reliable, intelligent, simple and efficient electrolyte analyzer. The intuitive software, all-in-one reagent pack and the easy-to-use auto loader offer automated electrolyte testing with minimal hands-on time and excellent performance. The suitable choice for laboratories that wish for better electrolyte testing experience.
---
Technical Specifications

Features
Reliable: direct ion selective electrode method, new reagents with long stability, multi-point and one-point calibration, excellent testing performance, robust system with long uptime
Intelligent: whole blood, serum, urine (diluted), other Smart calibration and QC program, smart reagent management program, auto rerun for abnormal results, smart system diagnosis
Simple to use: All-in-one reagent pack, 7-inch LCD touch screen, intuitive software with friendly UI, one-touch maintenance operation and ready-to-use maintenance reagents
Efficient: up to 100 samples per hour, minimum sample volume at 80 µI, low reagent consumption, low maintenance frequency and an Auto loader with 32 positions.
Parameters
K+, Na+, ci-, iCa22+, tCa22+, Li+, pH
Throughput
Calibration
Sample
Whole blood, serum, urine (diluted), other
Sample Volume
Electrolyte Reagents
All-in-one reagent pack
Urine dilution
3-level QC
---