News

03.06.2015
Chromogenic Coliform Agar (CCA)
[row] Manufacturer: [end] [line] Description The Chromogenic Coliform Agar (CCA) allows the detection and enumeration of Escherichia coli and coliform bacteria to waters of low numbers (less than 100 total colonies). [line]...
Read more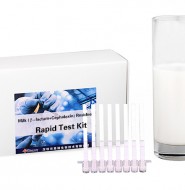 11.07.2014
New Antibiotics Tests by Bioeasy
Atropos is now launching antibiotic detection rapid tests solutions by Bioeasy . The manufacturer provides kit series for every demand and to cover every need (2 to 1, 3 to 1, 4 to 1 etc). We are convinced that you would find the test best...
Read more