V600E Mutation of BRAF Gene Detection Kit
Manufacturer: 

---
Description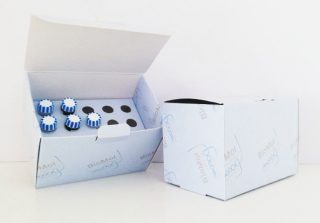 ONC-021 by BioMol Laboratories allows the qualitative determination of the V600E mutation of the BRAF gene by Real-Time PCR technique. The amplification is carried out on genomic DNA extracted from whole blood, tissue, cells etc.
---
Technical Specifications

Features
Sensitivity: Reaches up to ??
Diagnostic Specificity: ??
Diagnostic Sensitivity :??
Required Detection Channels FAM, JOE-HEX
Compatible  with a wide range of Real-time  PCR devices including:
LightCycler® 2.0 / 480, Applied    Biosystems 7300 / 7500 Real-Time PCR System, Rotor-Gene 3000 / 6000, etc.
Stable at -20 ± 5 °C
CE-IVD certified diagnostic test
Format
Shelf life
18 months since production
Sample
whole blood, tissue, cells etc.
Results
---