KT-6600
Manufacturers:

---
Description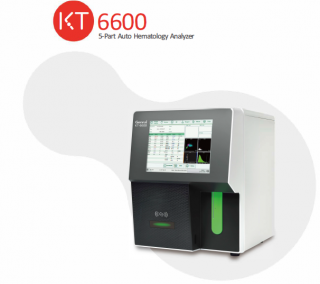 ΚΤ-6600 is a compact yet powerful 5-part auto-hematology analyzer. It uses 3 reagents to differentiate and count blood cells.
Diff lyse is added to differentiate 4 kinds of WBC (Lym, Mon, Neu and Eos), LH lyse is used to differentiate Bas and count WBC amount. Besides, there is a dedicated channel for Bas differentiation. Surrounded with sheath fluid (diluent), blood cells pass through the center of the flow cell one by one at high speed.
The tri-angle laser scattering contributes to more accurate counting. When passing through the flow cell, blood cells are exposed to a laser beam. The intensity of scatter light reflects the blood cell size and intracellular density. The optical detector receives scatter light signals and converts them into electrical pulses. Pulse data is collected to generate a scattergram.
---
Technical Specifications

Features
Reliable hardware, accurate results
Cost effective, use of only 3 reagents (2 Lyse, 1 Diluent).
Powerful data management, use of flags for better diagnosis, stores 40.000 results.
Smart maintenance. Self-checking hardware, easy maintenance routine.
Principle
Tri-angle laser scattering, flow cytometry for WBC differentiation count, electrical impedance for RBC and PLT count, Cyanide-free method for HGB
Throughput
Parameters
24 parameters: WBC, LYM%, MON%, NEU%, BAS%, EOS%, LYM#, MON#, NEU#, EOS#, BAS#, RBC, HGB, HCT, MCV, MCH, MCHC, RDW-CV, RDW-SD, PLT, MPV, PDW-CV, PDW-SD, PCT
2 histograms for RBC and PLT
4 scattergrams for WBC differential
Quality Control
Calibration
Manual, auto and fresh blood calibration
Sample Volume
CBC+ DIFF mode: 20µL
Prediluted mode: 20µL
Reagents
3 Reagents (2 Lyses + 1 Diluent)
1 Probe cleanser for maintenance
---