Elx800
---
Description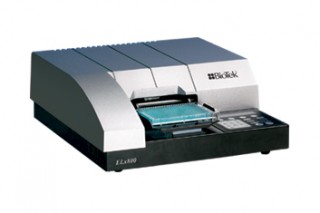 The ELx800™ is designed for applications within the clinical, biotechnology research and pharmaceutical laboratory. Its compact footprint and proven robust design makes it an ideal solution for many microplate based biological assays. The ELx800 can be controlled by Gen5 software, expanding the reader's capabilities to include kinetics and well area scanning measurements. Gen5 offers unsurpassed data reduction capability as well as customizable data output options. When standalone use is preferred, the ELx800 on-board software is extensive for a variety of qualitative and quantitative applications.
---
Technical Specifications

General

Detection mode
Absorbance
Read method
End point, kinetic and well area scanning via computer control
Microplate types
6-, 12-, 24-, 48-, 96-well microplates
384- and 60/72/96-well Terasaki plates (NB option)
Software
Gen5 Reader Control Included
On-board Software
55 user-programmable protocols

Absorbance

Light source
Tungsten Halogen
Wavelength selection
Filters
Wavelength range
400 to 750 nm
340 to 750 nm (UV option)
Bandpass
10 nm
Dynamic range
0 to 3.0 OD
Resolution
0.001 OD
Filter wheel capacity
5 positions
Filters supplied
4 filters (5 with UV option)
OD accuracy
<1% at 2.0 OD typical
OD linearity
<1% at 2.0 OD typical <3% at 3.0 OD typical
OD repeatability
<0.5% at 2.0 OD typical
Reading speed
96 wells: 30 seconds

Physical Characteristics

Power
100-240 VAC 50/60 Hz
Dimensions
16.5″D x 15″W x 7″H (41.9 x 38.1 x 17.8 cm)
Weight
18.5 lbs (8 kg)

Regulatory

Regulatory
For In Vitro Diagnostic use. CE and TUV marked.
Results
---
Documents