BioTek Cytation 1
Manufacturer: 

---
Description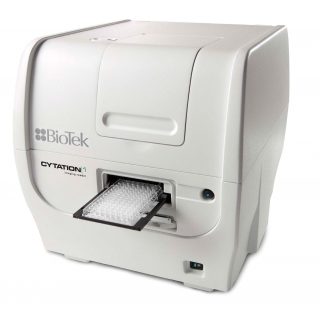 BioTek Cytation 1 cell imaging multimode reader combines fluorescence and high contrast brightfield imaging with conventional multimode detection. This affordable imaging reader delivers performance and economy compared to other digital microscopy systems. The BioTek Cytation 1 design provides both quantitative phenotypic cellular data with well-based quantitative data. The multimode detection module has high sensitivity filter-based fluorescence and a monochromator for UV-Vis absorbance. Temperature control and shaking are standard. CO2/O2 control and reagent injectors are available. Gen5 software simplifies image capture and plate reading.
---
Technical Specifications

Features
General
Detection mode
UV-Vis absorbance, Fluorescence intensity, Luminescence, Fluorescence polarization, Time-resolved fluorescence
Read method
Endpoint, kinetic, spectral scanning, well area scanning
Microplate types
Monochromator: 6- to 384-well plates

Filters: 6- to 1536-well plates

Imaging: 6- to 1536-well plates

Temperature control
4-Zone incubation to 45 °C with Condensation Control™; Variation +0.2 °C at 37 °C
Cooling
Optional Peltier Cooling Module maintains internal temperature with < 1 °C rise over ambient. Provides internal cooling after incubated processes.
Shaking
Linear, orbital, double orbital
Software
Gen5™ Microplate Reader and Imager Software included

Gen5 Image+ and Image Prime software available for full image analysis

Fluorescence Intensity
Light source
Xenon flash
Detector
PMT
Wavelength selection
Deep blocking band pass filters / dichroic mirrors
Wavelength range
Filters: 200 – 700 nm (850 nm option)
Sensitivity
Fluorescein: 0.25 pM (0.025 fmol/well, 384-well plate)
Luminescence
Wavelength range
300 – 700 nm
Dynamic range
>6 decades
Sensitivity
10 amol ATP (flash), 100 amol (glow)
Physical Characteristics
Power
100-240 VAC 50/60 Hz
Dimensions
16.4″ W x 17.5″ H x 20.2″ D (41.6 cm x 44.5 cm x 51.4 cm)
Weight
29 kg
Regulatory
Regulatory
For In Vitro Diagnostic use. CE and TUV marked.
---